Le SEA en 2020
With 4.389 billion users in 2019, the Internet, thanks to Paid Search Engine Optimization, has become a major medium for Advertisers in all sectors.
The Internet is by far the fastest growing medium, accounting for the second largest share of global advertising spending after television, while traditional media are on a downward trend.
According to the Zenith agency, online advertising will account for 52% of total advertising spending by 2021. The paid listing (SEA) representing 37% (+11% growth in 2018) of Internet spending.
Operating in an ultra-competitive world, advertisers must always be more creative and strategic in order to reach Internet users.

Avec plus de 30% des parts de marché SEA, Google Ads reste le leader historique dans le domaine. Staenk vous propose un petit récap' des tendances du Référencement Payant à venir en 2020.
See also : How to make paid referencing?
Machine Learning, when Artificial Intelligence becomes commonplace 
L'intelligence artificielle n'est plus une histoire de science fiction. Elle a intégré nos vies au cours de cette dernière décennie ouvrant la voit sur une métamorphose du paysage informatique. Le "Machine Learning" ou apprentissage automatique fait parti des grandes tendances du Référencement Payant en 2020. Il permet aux ordinateurs d'apprendre à partir de statistiques et de données. Cette technologie est désormais utilisée dans de très nombreux secteurs d'activité avec l'un de ses précurseurs : Google.

2020 will undoubtedly continue this trend towards automation. Google's "Smart Bidding" is one of the main trends to expect in 2020. Even if automatic bidding is not a new option on Google Ads, the results are now indisputable. No more spending hours adjusting bids manually! CPA, ROAS or Maximizing Clicks / Conversions offer very important results.

The "smart auction." many parameters:
History of your campaign,
Purchasing intentions of an Internet user,
Time and day of the week,
Remarketing,
Language,
And a lot of other data
These allow you to evaluate the bids of an ad. For each search associated with your keywords, the Google bot defines a different bid. The result is a budget and optimized bids according to the chances of conversions or clicks.
Discovery Ads, would Google compete with social networks? 
At the end of 2018, you were able to discover the new Google option named Discover.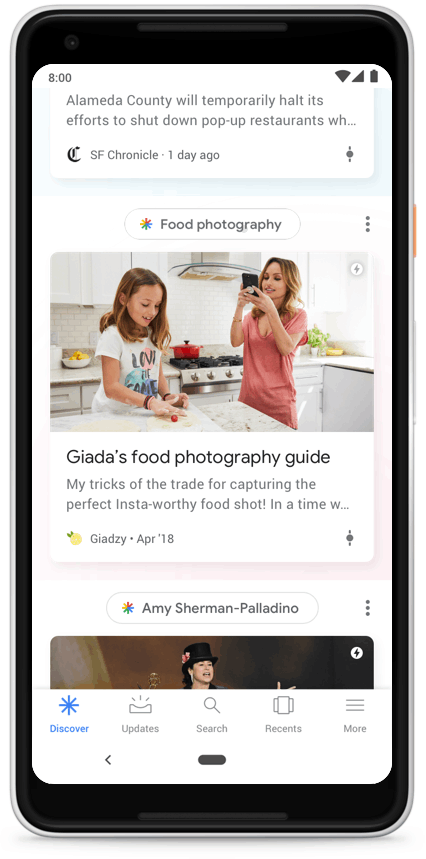 Discover presents Internet users with content selected according to their current interests, and is the true successor to Google +, a feature that is already used by more than 800 million Internet users.

We didn't have to wait long for Google to announce in 2019 the launch of "Discovery Ads." This new feature among the Google Ads trends will allow to communicate on Discovery from visual content (title, image, description, logo, URL). It will also be possible to highlight several images like the "Carousel" ads on Facebook as an example below.
This ad format will allow the Machine Learning to target specific audiences (in-market, affinity and intent) and, in addition to Discover, ads can also be placed on YouTube and Gmail.
YouTube Discover Gmail

We can expect a significant development of this ad format offering new opportunities for Advertisers.
Google Gallery Ads, and the Search Network integrated the Image
Although it is not yet available to all Advertisers in France, it has been difficult in recent months to miss the ads Gallery Ads on Google.

After Display, Shopping, Gmail and now Discover, it is now the turn of the search network to integrate images. Gallery Ads allows to target Internet users on the search network by offering them an ad format featuring 4 to 8 images and personalized descriptions. Only available on Mobile, Internet users can now discover a visual ad in accordance with their request.

This ad format can be invoiced in two ways :
Cost per Click (CPC) like traditional search network ads
When the user will scroll through at least 3 images.
This innovation will provide advertisers with an unparalleled richness of graphics and space occupation on the search network. According to Google Early reports show that an ad group with at least one Gallery Ads has an average of 25% more interactions on the search network.

The Renewal of Google Shopping
Google has undoubtedly decided to overshadow Amazon with its latest platform : Google ShoppingThe platform no longer just "compare prices" but now offers to buy a set of products without having to go through the merchant's site. No need to spend a long time on the platform to see that we have here Amazon with Google sauce.


France has been chosen with the United States as the first two countries to benefit.

On the head menuIn addition, users have access to a personalized interface with dedicated products and a system filter.

Just as Amazon Advertising's impressive development in 2019, we can imagine a significant growth in 2020 in the following campaigns Google Shopping.

Local Campaigns, the development of Local Advertising

2019 has shown how important it is for advertisers to communicate locally. Despite the boom in e-commerce, consumers still have a strong tendency to buy at the point of sale. The Internet is undoubtedly a major issue in the purchasing process.
Between 70 and 80% of purchases at the point of sale are the result of previous Internet browsing.
According to Google, 30% of the searches are local and 75% of these Internet users go to the store within 24 hours of the search.

The Local Campaigns allow advertisers to communicate on the Search Network, Display, YouTube or Google Map. They allow to attract customers directly at the point of sale. To do so, Google uses geolocation to propose nearby stores.



2020 will certainly be the key in the development and generalization of these "new" offline KPIs called "In-Store Visits" or "In-Store Sales". Thanks to geolocation, Google knows reliably if a user has been in a store after a search. Some advertisers even import in-store activity information such as transactions, in order to match offline traffic to traffic coming from Google Ads.

Google is also developing the Local Campaigns planning tool which will provide in-store predictive results of your Local campaigns.

New Audiences for more control of your targets

At the end of 2019, Google has presented us with two new ways to target audiences the affinity hearings and the market audiences.

Nothing new, you might say? Well, yes, there is! Google Ads now offers much more detailed and developed options. It is now easier to reach the right audience and no longer those extremely vague categories that the tool had accustomed us to.

The affinity hearings allow you to target people already interested in your product or service using categories such as "30-minute recipes" or "role-playing".

Market audiences, on the other hand, reach out to consumers who are actively searching for or comparing products and services, and thus are in the midst of their purchasing process.

These two solutions make it possible to reach a selective audience and bring in new customers.
Vous l'aurez compris, les tendances Google Ads sont nombreuses.
2020 marque un nouveau tournant dans notre appréhension de la communication sur le réseau Google. Les annonceurs ont de plus en plus d'outils alliant machine learning et fonctionnalités créatives pour toucher les bonnes personnes avec les bons arguments. Alors que la communication sur les réseaux sociaux et marketplace ne cessent de croître, Google a placé des arguments de taille afin de garder sa position de Leader dans le référencement.
Pendant ce temps, notons que Amazon s'est développé dans la publicité avec des investissements publicitaires anticipés à +70% entre 2019 et 2021, et que Bing Ads vient également concurrencer Google Ads.
Related Articles